CONTACT US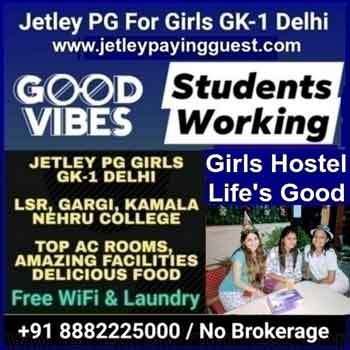 How can we help you?
Jetley PG For Girls GK-1 New Delhi
All Safety Measures in Place
It is ideally located in Greater Kailash Part-I, Near N Block Market in posh locality of South Delhi.
Contact Us :
Jetley PG For Girls Delhi / Girls Hostel Near
LSR, Gargi, Kamala Nehru College Students & Working Girls
Life's Good, Comfortable & Secure

Call Us : +91 8882225000 (9am-8pm)
- For Latest Updates On Availability of AC Rooms
- For A Virtual Tour of Jetley Paying Guest Accommodation Visit Our YouTube Channel
- For Questions & Answers Visit Our FAQ Page

Address :
Jetley Paying Guest PG For Girls Hostel LSR Gargi KNC College, Working Girls, Delhi,
N-136, Greater Kailash-1,
South Delhi,
Delhi 110048,
India.
Owned & Managed By : Mr Kapil Jetley & Mrs Tripta Jetley
Mobile : +91 95555 55198, 95551 36136.
Email : info at jetleypayingguest.com
Website : www.jetleypayingguest.com
We Are On Social Media :
WhatsApp, FB Messenger @ +91 88822 25000.
Get in touch with us by filling contact form below.
Note :
Best Suited For Girls Students of Following Colleges of Delhi University (DU) - Lady Shri Ram College For Women (LSR College) / Gargi College / Kamala Nehru College / Dyal Singh College / Shaheed Bhagat Singh College / PGDAV College / NIFT Delhi / Aakash Institute South Extension / Time Coaching Center Kailash Colony Etc.
Also Suitable For Working Girls & Working Women Having Office / Work Area Near - Nehru Place (Metro Connectivity) / Okhla (Metro Connectivity) / Connaught Place (CP) (Metro Connectivity) / UNICEF / UNDP Lodhi Estate Delhi (Metro Connectivity) / India Habitat Centre Lodhi Road Delhi (Metro Connectivity) / CGO Complex Lodhi Road / ITO Delhi / Defence Colony / Lajpat Nagar / South Extension / East Of Kailash / Kailash Colony / Jor Bagh / Sunder Nagar / Golf Links / Greater Kailash-2 / Jungpura / Jungpura Extension / Siri Fort Road / Anand Lok / Uday Park / Hauz Khas / Gautam Nagar / National Park / Amar Colony Etc.
Salient Features :
Fully Furnished | Top Class Twin Sharing / Triple Sharing AC Rooms | Ventilated & Spacious Rooms | Box Bed With Mattress | Attached Western Bathrooms In All Rooms With Geyser, Shower, Full Size Mirror, Exhaust Fan Etc | Individual Study Table For All Girls Students | 24x7 Security Guards | Free WiFi | Near Metro | 24x7 Medicare | Marble Flooring | Common Large Drawing Dining Room With Dining Table, Sofa, TV | Yoga Space | News Paper Delivery | Photocopy & Courier Service Available | Fully Equipped Kitchen With Fridge, RO UV Water Purifier Etc | Maid For Cleaning & Helping Students & Working Girls | Lively Atmosphere With Good Vibes & Rhythm For Young Girls Students & Working Girls To Enjoy Their Stay.
Disclaimer : Any Product Names, Logos, Brands, and other Trademarks or Images featured or referred to within www.jetleypayingguest.com website are the property of their respective Trademark Holders. Moreover www.jetleypayingguest.com is neither associated nor affiliated with any of mentioned Brand Names in the website. Logos and Images are being used only for representation purpose. We Are A Independent Entity.